who says you have to be crowded into the living room, kitchen, and/or dining room to hold a book club? we are ladies of the 21st century. we don't need no stinkin' couches. so pull up a blog and join in the conversation.
the members of the BOOK HUNGRY are (alphabetically): patty blount, kelly breakey, karla nellenbach, vanessa noble, alyson peterson, cynthia reese, elizabeth ryann, and myself. here's the deal. we pick a book to read. we discuss via email. we post a review on our individual blogs on the same day (3rd thursday of the month). we link to each other. done. i know, genius. click on each one of their names (above) and it'll take you to their review. browse. enjoy.
this month's BOOK HUNGRY selection is: 
THE BEYONDERS by Brandon Mull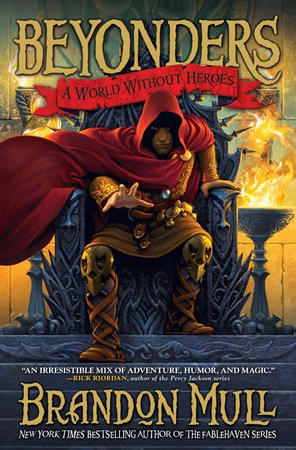 what it's about from amazon: the first book in a new series (Beyonders), A World Without Heroes is an addictive blend of fantasy, humor, and heroic quest. Jason is an ordinary 13-year-old involuntarily transported to Lyrian, a world ruled by the evil wizard Maldor. Jason stumbles across a book bound with human skin and learns of a secret word with the power to unmake Maldor–knowledge that puts Jason in grave danger. Galloran, a blind king who once searched for the word himself, introduces Jason to Rachel, another Beyonder (as people from Earth are called) who had appeared in Lyrian at the same time. Jason and Rachel set out to retrieve the word, and the resulting pages are filled with adventure, drama, loyalty and betrayal—a treat for fans of Mull's Fablehaven series or those discovering this bestselling author for the first time.
my opinion: i have very mixed feelings about this book because while the latter half of the book picked up, it starts off slow. i was fortunate enough to know this before i started reading (my fellow book hungry gals are faster readers than me), so i was prepared to chug through the beginning, where the humor felt forced, the narrator's voice seemed ages older than an eighth grader should be, and characters conveniently showed up whenever jason was in peril. it wasn't until i reached about 250 pages in that i stopped reading every. single. word. and started living the adventure with jason and rachel. their interactions were more realistic and charming, the humor erupted from the story, and when jason took charge, and i believed it.
but then the ending arrived and it wasn't so much the end of the book as it was a pause in the story. the only author who i'll let get away with this is patrick ness and his CHAOS WALKING trilogy, so yeah, i wasn't a fan of this stopping where it did. however, even after all my original misgivings, i AM curious to see where book 2 takes these characters…
join us next month as we read MAKING WAVES by tawna fenske. it's her debut novel and we've all gotten to know her via twitter and her blog, so we know it's going to be a PARTY!!!
//